The treacherous war in Ukraine has seen commodity prices skyrocket – and there's one economic consequence that could see Aussies make a big switch.
One side effect of Russia's invasion of Ukraine that we are all feeling has been the jump in oil and gas prices as Western nations apply trade sanctions.
One way to look at this spike in prices is basically as a global 'carbon tax' because fossil fuel prices are rising so fast they can't compete with alternative forms of energy – albeit with the proceeds going to Russia and OPEC rather than to national governments or consumers (as was the case in Australia's carbon price).
If we add to this that Russian President Vladimir Putin's war has created a lot of instability of commodity supply chains, then it has injected a dramatic price and risk incentive to transition away from coal, gas and oil.
The cost of 'Putin's carbon tax'
Coal, gas, and oil all have economics based on a scarcity curve: The more we use, the deeper we need to dig and the more expensive they are to extract.
On the other hand, solar and battery power is on a technology curve: The more the world produces, the cheaper it becomes.
Solar plus batteries is the "killer app" of renewable energy. This combination delivers free and stable energy, once installed. As price parity with fossil fuels is reached, they are extremely scalable.
That's where the Russia-Ukraine war comes in. At current elevated gas prices, renewables plus batteries are far cheaper than gas and coal for the production of stationary energy.
Solar and wind are currently the cheapest energy options. Picture: Supplied
Putin's 'carbon tax' and electric vehicles (EVs)
The impact of the Russia-Ukraine conflict on oil is similar for car usage costs, though it is complicated by factors such as battery range.
The most useful way to look at the equation is in terms of payback. For example, if a battery with a range of 300km costs $6000 and saves $2000 per year in fuel costs, the payback is three years.
Australians are inhibited by a lack of investment in electric charging stations, but for the city commuter with their own solar power, the equation is becoming compelling with a payback period well under three years while oil is above $100.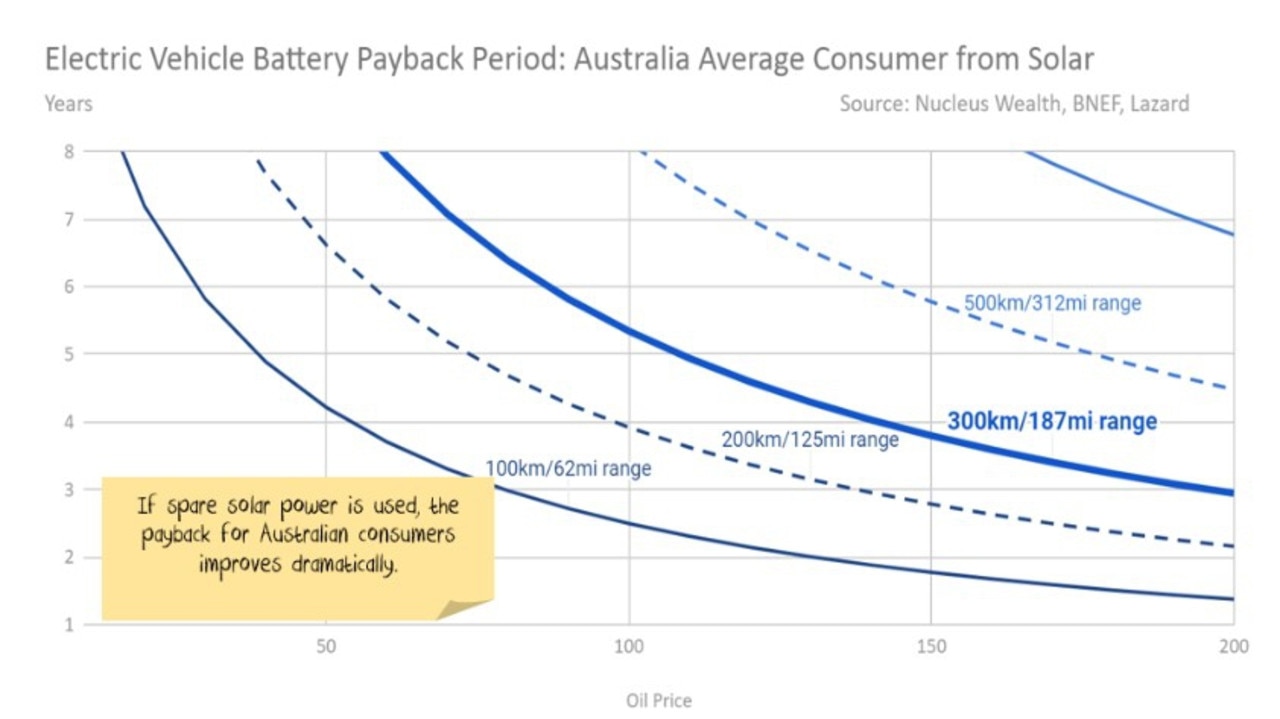 Electric vehicles make more financial sense as the price of oil rises. Picture: Supplied
Range anxiety for some
Most cars drive less than 33km per day (12,000km per year). If consumers are happy with 100km of range, i.e. charging three to four times a week, then the economics of electric cars already stack up.
If consumers want more range, they can buy a larger battery to make the occasional longer trip.
So far, as battery costs come down, electric vehicle manufacturers mostly keep the car's price unchanged and extend the battery range. Which means the economics are not materially changing.
That said, commodity price rises in battery input costs probably mean the price falls we are seeing in EVs will pause for a year or two.
Use the sliders to work out your total petrol spend cost of petrol

Other nations much further ahead
Europe and the US are much further ahead in these transitions than in Australia, which has been held back by large and powerful fossil fuel vested interests.
For instance, in Europe, it already makes financial sense for most consumers to use EVs. Much of the US is the same position as those Australians with excess solar power to put towards an EV.
But even in fossil fuel-addicted Australia, the current situation is likely to dramatically accelerate the transition to cheaper, cleaner energy.
credit:
David Llewellyn-Smith is Chief Strategist at the MB Fund and MB Super. David is the founding publisher and editor of MacroBusiness and was the founding publisher and global economy editor of The Diplomat, the Asia Pacific's leading geopolitics and economics portal. He is the co-author of The Great Crash of 2008 with Ross Garnaut and was the editor of the second Garnaut Climate Change Review. MB Fund is underweight Australian iron ore miners.